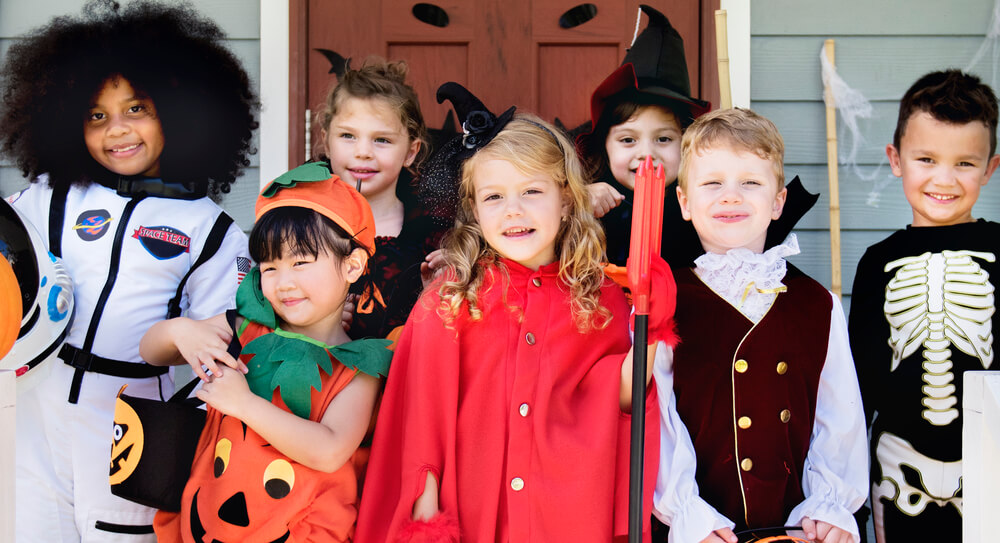 Contact us with any questions or to schedule an appointment for your child.
Everyone's favorite season is here. The changing leaves and Fall breaks mean only one thing: Halloween is right around the corner!
At Shults Pediatrics, we celebrated the holiday a little early at our new Maryville office to celebrate the new building. In the spirit of the season, though, we don't want to leave out any of our Shults family who wasn't able to make it.
So, Dr. Broome has been hard at work collecting some super helpful tips for how to make Halloween both fun AND safe!
Halloween is a time for fun and imagination. Go all out! But just be aware that the holiday also brings some extra risks for children and teens. In fact, child pedestrian injuries are more likely on Halloween than any other night of the year. So be sure to emphasize to your children the importance of looking both ways before crossing the street. Also try to incorporate some reflective gear in your child's costume, if possible.
Always accompany younger children while trick-or-treating. If trick-or-treating doesn't start until after dark where you live, consider looking around town for Halloween activities offered earlier in the day. There's always a trunk-or-treat around, you just have to look for them!
If your older children are trick-or-treating alone, plan and review the route that is acceptable to you as the parent. Agree on a specific time when they should return home and get flashlights with batteries for everyone. Glow sticks can also be fun and allow more visibility at night. Again, even though they're old enough to know already, it couldn't hurt to emphasize the importance of looking both ways before crossing the street.
Caution kids never to enter a home or car for a treat. It can be an uncomfortable conversation to have, but it's an important one that should be given the attention it deserves. Be sure to let your child know that if this happens to them, they can let you know and they won't get in trouble for talking to a stranger. It's good to foster a safe environment that lets them know they can come to you when these things happen. Notify law enforcement authorities immediately about any suspicious or unlawful activity.
Consider offering non-edible goodies to trick-or-treaters. Halloween can be one of the more challenging days of the year for children with food allergies. Alternatives include items such as glow sticks, spider rings, vampire fangs, pencils, bubbles, bouncy balls, finger puppets, whistles, bookmarks, stickers, and stencils. Try to make it fun for everyone!
We hope that these tips lend themselves to helping your family have the best Halloween experience yet! Halloween can be fun AND safe if you follow these tips.
We can't wait to see all of your family's fun costumes! Don't forget to snap a pic and send it our way on social media! You can find us on Instagram and Facebook.
Happy Halloween from Shults! May all your trick-or-treats be so sweet this year!